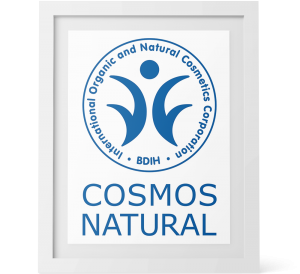 Biork is certified according to Cosmos Natural Cosmetics
Cosmos is a standard for environmentally friendly products, which guarantees the use of ingredients made from renewable raw materials and produced using environmentally friendly processes.
Promoting the use of organic farming products and preserving bio-diversity
Responsible use of natural resources and consideration for the environment the use of clean processing and manufacturing methods that take into account the impact on human health and the environment
Inclusion and extension of the concept of "green chemicals
Cosmos therefore checks all products for the absence of GMOs, parabens, phenoxyethanol, nanoparticles, silicon, PEGs, synthetic fragrances and dyes, and animal ingredients (except milk, honey, etc.). The products must be free from animal testing. Furthermore, only recyclable or biodegradable packaging may be used.